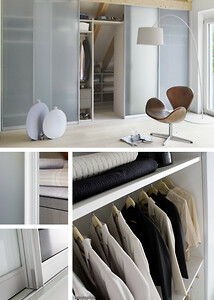 1. Sort your wardrobe every 6 months. Give away or sell the clothes you no longer use. Do you have clothes, that you do not have the heart to throw away (e.g. your wedding gown)? Pack them up and put them away for storage - not in the closet.
2. Divide your wardrobe into seasons. Pack the shorts, bikinis or big wooly jumpers away when they are not in season - again, not in the closet.
3. Avoid wasted space by making a list of everything you want the closet to contain. If your closet has adjustable shelves, remove them and start inserting them one by one. Add only so much space that, e.g. your suitcase, can fit in there. Psst! .. Use our guide to see how much space your clothes require.
4. Use clever storage, e.g. boxes for socks and a coatrack for scarves, belts, purses.
5. Create good shopping habits by only buying clothes that you want to put on instantly. Make a list of what you actually need beforehand and stick to it on your shopping trip. Know your style and body type. There is no need to have a closet full of dresses if you prefer jeans.
We wish you luck!
SILTON.DK