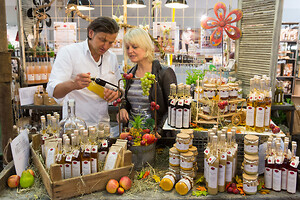 With products spanning a range of categories from home, stationery, gourmet, jewellery, and floristry through to cookware and accessories and as the only order trade fair in North Rhine Westphalia (NRW), the vivanti is a capable platform for the segment.
The vivanti serves as an important link between national and international exhibitors and regional specialty retailers from NRW. Leverage our order days to develop your business contacts.
We hereby invite you to experience the vivanti from January 21 to 23, 2017!
Come to Dortmund and find a wide range of products and news from the following areas:
Furnishings and decoration
Style and design
Presents and stationery
Kitchen and gourmet
Garden and seasonal
Relaxation and care
Jewellery and fashion
The latest vivanti in summer 2016 had almost 9,000 visitors and 423 exhibitors from 10 different counties.
For free tickets, contact our representative in Denmark:
Standesign A/S, Elisabeth Nørgaard, Tlf. 2041 7966, info@leipziger-messe.dk