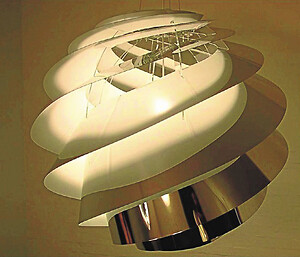 Induflex in Støvring, Denmark, are specialists in processing plastic and have for years collaborated with Le Klint in development, construction and production of their lamps.
For a while now, this collaboration has centered around the practical and technical contruction of the gigantuan lamp with a diameter of 2 meters. So far this lamp, The Swirl, has only been produced, comercially, with a maximal diameter of 80 centimeters.
- Le Klint has visited us a few times in the develoment and construction of the different models, Line Bluhme, head of sales at Induflex says.
- With regards to Giga Swirl the real challenge has been the dimensions versus the choice of materials - strenght and carrying load has been keywords Rico Larsen, CEO & owner 0f Induflex adds.
120 cm prototype.
So far a prototype of the lamp has been produced with the meeger diameter of a 120cm. Later this january the construction of the exclusive Giga Swirl for the foyer at Odeon venue begins. The massive diameter of 2 meters means that the lamp will have to be assembled on site at Odeon.
- Practically, the assembly will have to take place as close to the opening of Odeon as possible. We want to avoid all the dust from the building and remodeling Sinja Svarrer Damkjær adds.
- We appreciate our productive and inspiring collaboration with Le Klint in the development of their beautiful lamps. Our capacity and technical know-how with acrylics in particular makes it possible to create the impossible - regardless of the dimensions. We are so proud to be able to assist Le Klint in realising their vision of The Giga Swirl., Rico Larsen finishes.
Link to original post in Danish (See more photos): http://www.e-pages.dk/bogodt/319/