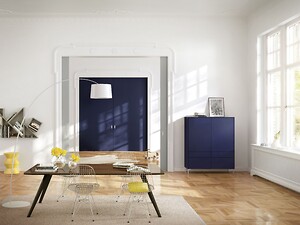 The Ligran furniture system can adapt itself flexibly to both small rooms and also large open spaces.
Chose between over 200 formats ranging from short and compact to long and slim.
Depending on their dimensions, the Ligran can be mounted on the wall or placed on sockes, foot stands or furniture feet.
Thanks to their pared-back look these timeless, modern basics can be integrated into any interior - from living rooms, through dining and entrance areas to bedrooms and dressing rooms.