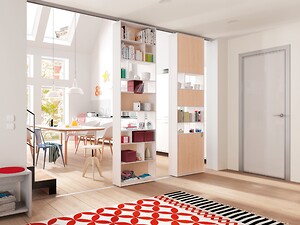 We present the innovative sliding unit 'Rima Fino' from raumplus®. 'Rima Fino' combines the mobility of a sliding door with the storage capacity of a piece of furniture. 'Rima Fino' brings a breath of fresh air into room, hall, and closet design.
Thanks to a material thickness of just 12mm, a modifiable back wall, and the wide range of accessories, the slim-line mobile shelving system is flexible in a variety of ways. It can be used as a sliding room divider fitted either with a complete back wall or with cut outs to make it more transparent.
As a mobile second layer in front of a hall or bedroom closet, 'Rima Fino' offers even more options. The range of accessories includes clothes hooks and the back wall can be fitted with a mirror.
Credit: raumplus®