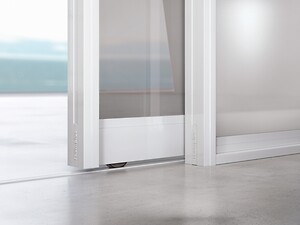 What is in it for you?
A bright and inviting home
No ruined floors
A healthier indoor climate.

How?
Our SLIM glass wall system is a quality product, that gives an elegant and different partition of your home. No home is the same. Therefore, the glass walls are produced based on individual measurements. A SLIM glass wall gives you the opportunity to make partitions without shutting out the light.
SLIM glass walls are simple and easy to install, and can be moved or changed without big costs to adapt new functions into the home - even without leaving holes in the floor.
The glass and the maintenance-free profiles do not form breeding ground for bacteria. Therefore, you get a healthier indoor climate.