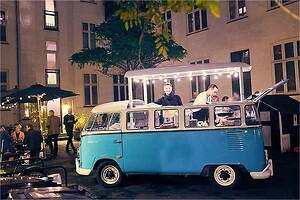 Sophisticated Asian street food and the unique atmosphere around a specially designed food truck await visitors to Formland Spring 2018 when the Michelin restaurant Kiin Kiin guests the interior and design fair.
It will be the first time that the Michelin restaurant is a part of Formland, and at Kiin Kiin, they are already full of eager anticipation:
"I'm looking forward to visiting Formland. We visit the fair as a purchaser each year, and can't understand why we don't meet more of our colleagues from the restaurant business. It's an obvious place to find new ideas and business partners," says Henrik Yde Andersen, who runs Kiin Kiin, adding:
"We'll be bringing along Kiin Kiin street food served from our custom-built, blue food truck, where we set out to use top-quality ingredients and meet our customers face to face. The whole idea is that the first bite really tastes delicious, as we don't have a whole evening to build up the taste experience as usual."
Development through unique collaboration
Kiin Kiin is guesting the well-known interiors and design fair in cooperation with one of Scandinavia's leading interior brands, Broste Copenhagen. Sales and marketing director at Broste Copenhagen, Paul Christian Knudsen, is greatly looking forward to Formland Spring 2018, where they will be in the company of Kiin Kiin's impressive culinary skills:
"When we started talking to Formland about our thoughts and slightly wacky idea for Spring 2018, the fair once again revealed its innovative approach, and could immediately see the potential in the project. Consequently, at Formland we will be launching a completely new set-up which has not been seen previously at Broste Copenhagen," says Paul Christian Knudsen, adding:
"In addition to rethinking the design of our stand, we have also entered into an exciting cooperation with the Michelin restaurant Kiin Kiin, who we already work very closely with. And we're proud that, together with Kiin Kiin, we can give visitors to Formland an extraordinary experience when aesthetics and gastronomy go hand in hand. We guarantee a unique universe with exceptional culinary experiences from the Thai cuisine."
Broste Copenhagen and Kiin Kiin will be part of Hall E, where established interior designers, north European entrepreneurs, exciting lecturers, a Seedlip mocktail bar etc. are setting the stage for a brand new concept:
"The hall will be packed with exhibitors and serve as a mecca for many of our activities. The hall will be a real hive of activity," says Formland project manager Mai-Britt Risvig Flyvholm, who is proud to be adding a dash of spice to the event together with Kiin Kiin by Broste Copenhagen.
The Michelin restaurant Kiin Kiin and Broste Copenhagen can - together with many other exciting exhibitors - be seen at Formland Spring on 1-4 February 2018 at MCH Messecenter Herning.
Contact information
Mai-Britt Risvig Flyvholm
Project Manager, Formland
Phone:+45 99 26 99 44
E-mail: mbf@mch.dk