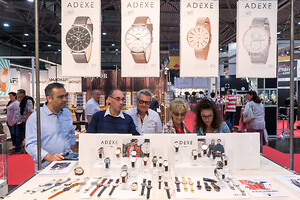 The visitors of the MIDORA are distinguished by an intensive interest in products, a marked willingness to spend money and inspiring visions. Thus, the MIDORA is far more than just a platform in the fall for placing orders. Specialty retail convenes in Leipzig in search of new products and trends and is willing to add these to their assortment!
The MIDORA Leipzig is characterized by a high percentage of regular trade visitors.
MIDORA is accompanied by CADEAUX Leipzig - Trade fair for gifts and home trends.
The CADEAUX trade fair offers more than an opportunity to present products and innovations. Exhibitors also have the option to use presentations to provide information about materials, trends, ideas and strategies to an expert audience.
The following segments will once again be featured:
Bath/Wellness/Beauty • PBS Salon/Creative/Games
Flowers/Home/Gifts • Craftwork/Manufacture
Souvenirs/Gifts/Prizes • Fashion accessories/Jewellery/Watches
Tableware/Cook Shop/Gourmet • Erzgebirge folk art
Approximately 12,000 trade visitors come to visit MIDORA and CADEAUX in Central Germany to obtain information about the newest trends and place their orders for the upcoming season.
Held concurrently with the exhibitors' offerings are special exhibitions and workshops that offer expert knowledge and innovative ideas for daily sales practice in the specialist retail sector.
Do not miss out on this interesting fair experience in Leipzig on 1 – 3 September 2018
For further information contact our representative in Denmark:
Standesign A/S, Elisabeth Nørgaard, Tlf. 2041 7966, info@leipziger-messe.dk