Dorrit Bøilerehauge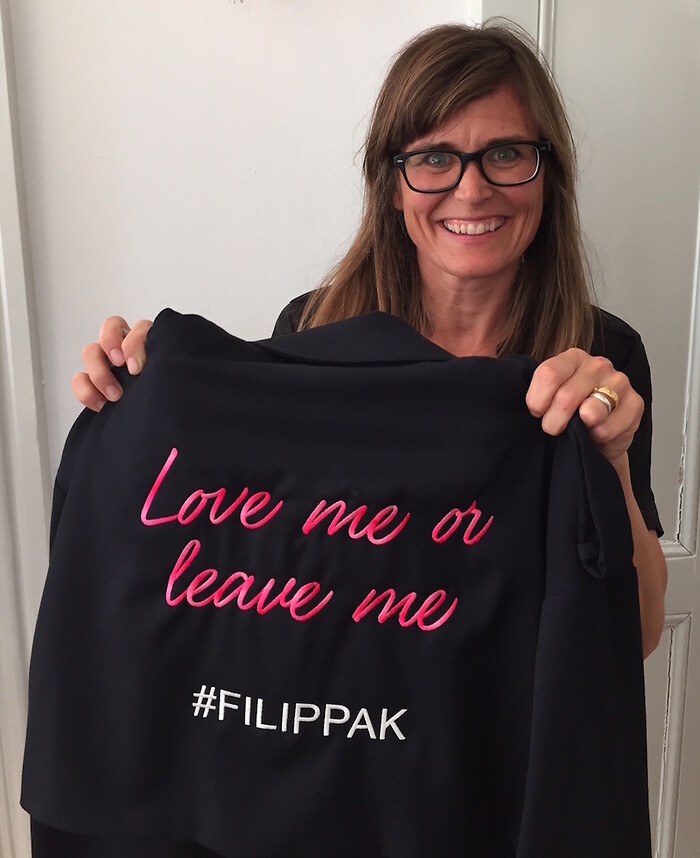 Elin Larsson with a campaign coat for recycling of Filippa K styles
Dorrit Bøilerehauge
The Swedish Embassy in Copenhagen hosted a seminar on sustainable Swedish fashion on the 11th of May with a panel of representatives from H&M, Filippa K, Houdini Sportswear and Mistra Future Fashion. Nordic Design News took the opportunity to talk to Elin Larsson, Sustainable Director of the Swedish Fashion brand Filippa K regarding their work with sustainability after her engaged presentation.
Being responsible and taking care of the environment makes sense, even if it requires quite some effort on behalf of the companies. But do customers really care? Elin Larsson is convinced that they do, and adds: "We have received an overwhelming response to many of our initiatives such as for example the Sustainability Pilots, where we have a group of customers giving us feedback on our sustainable efforts. Also from this we get evidence of how much being conscious of your actions is top of mind among our customers."
From waste to value
"At Filippa K we try to use waste such as left over fibers from our wool production. The recycled material may be used for cashmere roller necks but also recycled polyester from PET bottles is used. Finding completely new materials regarded as waste in other industries is also an interesting opportunity. This could be re-cycled coffee ground or plastic extracted from wastewater. We hope, that in the near future, we will be able to work with climate positive materials. At Filippa K we will continue to challenge ourselves to become more circular, and we will constantly work for giving our customers the ultimate curated wardrobe."
Comfort breeds sustainability
The fashion industry has a particular twist in the relationship between quality, comfort & looks, and sustainability. But what will the brand do if the sustainable materials are less comfortable for the customers? Elin Larsson explains: "Quality equals long-lasting, and this is an important part of being more sustainable. If the items are uncomfortable to wear, they are not sustainable, as they will not come to much use."
Read more:
ege – a flying carpet for sustainability
So the lesson seems quite simple: buy well, buy only once – and wear what you buy.
Photo: Elin Larsson with a campaign coat for recycling of Filippa K styles