Photos: Chris Tønnesen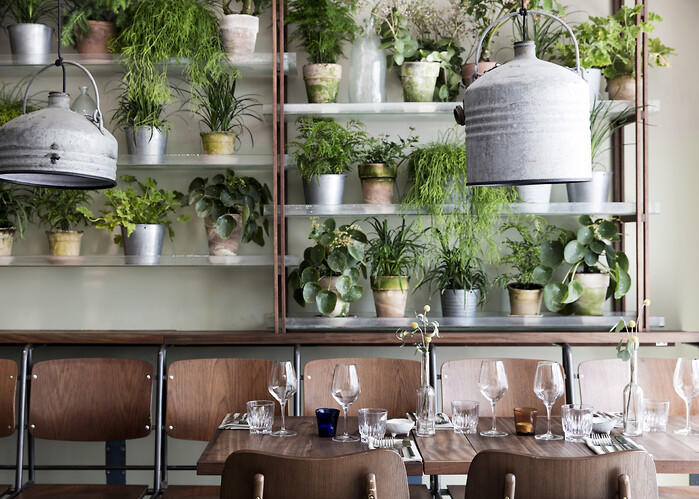 Väkst restaurant by Genbyg
Photos: Chris Tønnesen
How can food inspire and indeed be reflected in interior decoration? Nordic Design News asked the owner of Genbyg, Jesper Holm, about the design of the new restaurant Väkst in Copenhagen. "The overall vision with the restaurant Väkst was to create a space that matches the Nordic kitchen while also observing the principles of sustainability. We wanted to create a particular ambience, reminding you that you are seated right in the middle of the underground of old Copenhagen - just like plants live partly underground, so does the restaurant.
Genbyg transformed the restaurant into an open and informal space filled with light and the atmosphere of urban gardening with an artistic expression of sustainable design. The green and organic environment matches the Nordic menu, with a focus on vegetables of the season. That is why plants grow in- and outside the greenhouse, and strings of bulbs and sails hang from the ceiling. In addition, the centre of the restaurant has a greenhouse of antique floorboards."
Jesper Holmberg rounds off: Recycled materials not only has a positive environmental impact by reducing waste, it also offers designers and architects a unique and historical materials adding authenticity and storytelling to a place."
Genbyg is also inspired by customers' photos of their own creations, and by the dialogue on the effect of materials when designing a particular atmosphere. As in the case with the restaurant Väkst, design and materials can also reflect and express the essence of a particular cuisine.