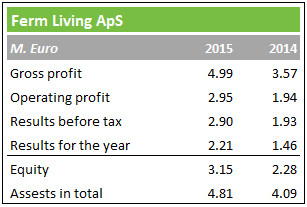 There's a wave rising of fast-growing interior-design brands in Denmark, and Ferm Living is one of them.
The newly released annual report shows that in 2015, the profit increased by close to 60%, which brought the result before tax to a staggering 3 mio. EUR before tax.
Read more:
Ferm Living collaborates with famous restaurant
- This is the result of a great year with growth, primarily in export, says chief executive officer Peter Thostrup, who was recently instated from a position in wood-company DLH.
Peter Thostrup says that the growth is equally divided between all of Ferm Living's products, which spands from designer furniture to interior and furnishing.