Dorrit Bøilerehauge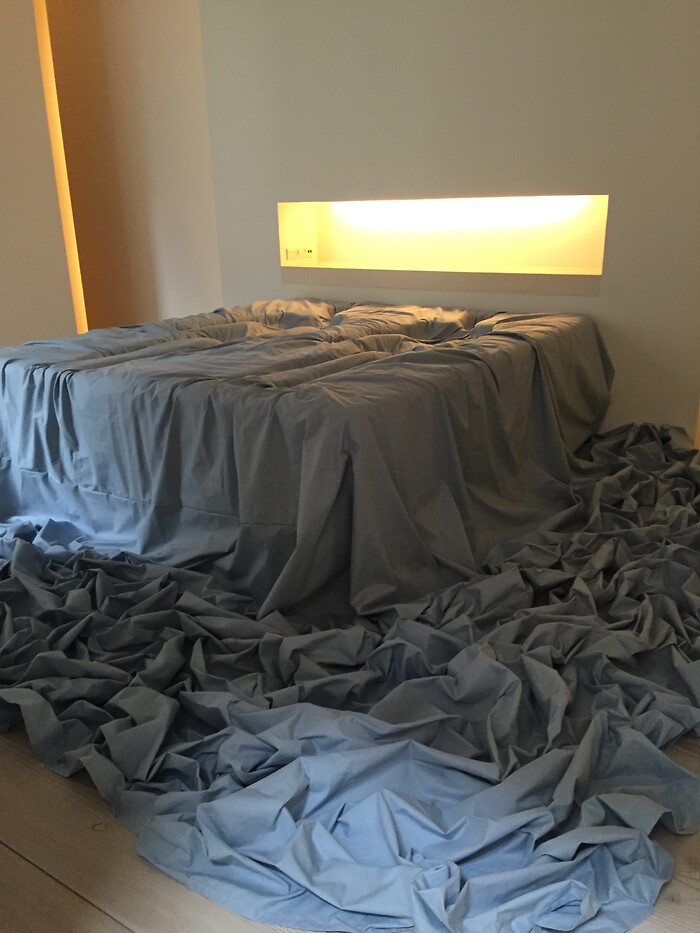 Dorrit Bøilerehauge
At times design icons run the risk of reaching a level, where the very establishment, desired by many other brands, endangers their topicality and visibility. But three Danish brands demonstrated a good deal of innovative thinking with their recent co-branding initiative.
Georg Jensen Damask, Republic of Fritz Hansen and Dinesen invited artist Pernille Egeskov to create an artistic interpretation of the three classic brands during 3daysofdesign in Copenhagen. Pernille Egeskov focused on the durability, quality and craftsmanship of the products, and the result was the exhibition 'HJEM' ('HOME'). A sensory story about family relations and the passing of time unfolded at the showroom apartment of Dinesen Home in Copenhagen.
HJEM included a huge yarn ball made up of tablecloths, a deconstructed chair, and beds still bearing the imprints of bodies. The installations were interpretations of family relations and life rituals, and it showed the products as silent witnesses to the events of our lives.
Products as companions
During a private viewing of the exhibition for Nordic Design News, Pernille Egeskov explained:
Read more:
Behind the scenes of Danish design
- The exhibition illustrates how life itself is only temporary. It also highlights how we make an imprint on the quality products becoming our stable and silent companions and witnesses bearing testimony to the past and reaching into the future. It follows, that HJEM also demonstrates the beauty, fragility and decay, which is all part of the circle of life. Once I grasped that the products are part of our life stories the process opened itself to me completely.
Read more:
Timeless, yet relevant in time
The exhibition made far bigger impact than the majority of co-branding events and clearly benefitted from the artistic freedom granted Pernille Egeskov in her work and creation. She seized the opportunity to aim at emotional impact by sensory involvement.
Three iconic brands proved their topicality and relevance in a new and refreshing manner. The heads of marketing for Georg Jensen Damask, Republic of Fritz Hansen and Dinesen expressed great satisfaction with the result of the artistic branding cooperation and hope to engage in similar efforts in the future. That sounds like a very good idea.