Photo: Louis Poulsen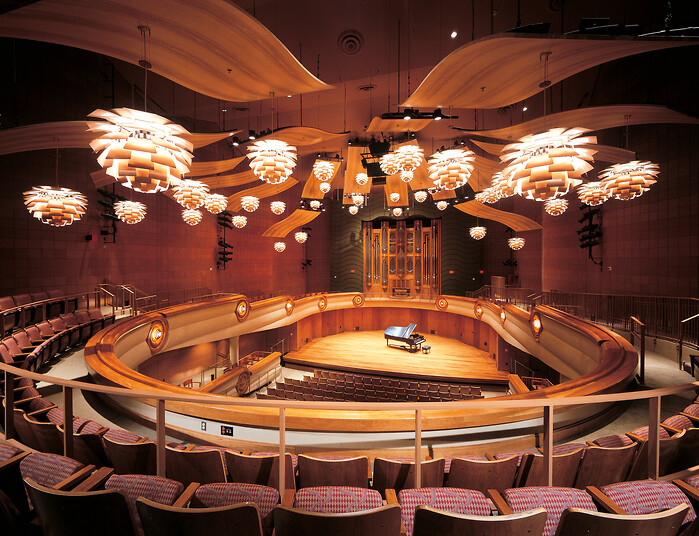 Rivercenter for the Performing Arts in Columbus, Georgia, USA, illuminated by the PH Artichoke.
Photo: Louis Poulsen
In 1926 the Danish architect Poul Henningsen (1894-1967) designed his famous PH-lamp, which would become a national treasure on the same level as H. C. Andersen's fairytales and Arne Jacobsen's 7-chair, writes DR.dk.
2016 marks the 90th birthday of the very first prototype of the lamp with the unique lampshade-system, and it is still a piece of iconic and innovative Danish light-design.
The first models of the three-shaded PH-lamp was presented in the beginning of 1926, at an automobile show hosted at the brand new Forum in Copenhagen.
Soon, Louis Poulsen & Co. started production, and at the end of the year 1926, the first models had sold more than 12.000 copies in Denmark.
The lamp was then mass-manufactured at Deutsche PH-Lampengesellschaft in Karlsruhe and spread out to four continents. An era of design and light had begun.
Poul Henningsen was inspired by his mother, who despised the harsh light from the old kerosene lamps that had been converted into electricity.
PH's idea was to create lighting to flatter beautiful things, as he would say. The light was supposed to make both the home as well as the people in it more beautiful. While PH might've been imaginative, he was also a great mathematic mind, which became obvious in the new lampshade-system, based on meticulous scientific and geometric studies.
The shade-system was a new way of thinking light. The lamp would direct the light to where it was needed, created reflection and dimmed the harsh glare. But PH also avoided the glare by letting the lampshades close themselves around the light-source.
- At that time there were no similar lamps with that same quality. Some people would say that Danish design didn't invent anything new, but instead successfully interpreted foreign trends. With the PH-lamp, it's different. The electric light was brand new, PH had no example to follow and that's why he came up with this revolutionary lamp-shade system, says design-researcher and architect Thomas Dickson to DR.dk.