Photo: Eskil Mann Sørensen
7
Pictures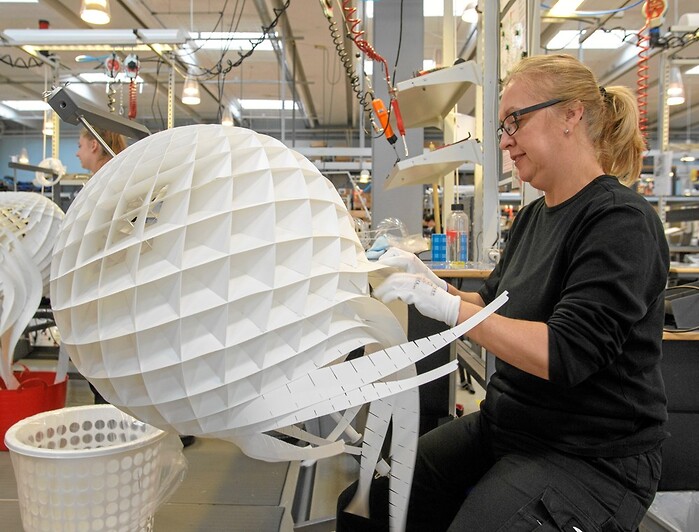 Photo: Eskil Mann Sørensen
Photo: Eskil Mann Sørensen
Photo: Eskil Mann Sørensen
Photo: Eskil Mann Sørensen
Photo: Eskil Mann Sørensen
Photo: Eskil Mann Sørensen
Esmeralda Mesic is weaving a "Patera". The lamp was launched earlier this year, and is inspired by the spiral pattern that is found everywhere in nature, e.g. in sunflowers and pine cones.
Photo: Eskil Mann Sørensen
Forget all about automation. At the Louis Poulsen factory in Vejen it is all about craftsmanship.
- We would not be able to achieve the same finish, if the lamps were produced by machine, production manager Søren Schøllhammer says.
A significant number of the lamps are designed by Poul Henningsen in the 1930'ies, and at Louis Poulsen they hold onto their original designs.
- Some of the lamps are actually produced in the same way as back then, Søren Schøllhammer explains.
One of the machines that remain unaltered is a grinding machine used for grinding the leaves to the "PH Artichoke" by Poul Henningsen.
- We say that we make handicraft by manufacturing standards, Søren Schøllhammer says.
Even though lamp manufacturing at Louis Poulsen mainly consist of craftsmanship, Louis Poulsen continuously strive to improve efficiency – and aims for 5-10 percent improvement each year.
One initiative has been to bring all functions used to produce a particular product together on a small area to reduce the time and cost of transportation. Another successful initiative is an investment in automated storage and retrieval systems that eases the process of bringing materials to the work stations.
Ideas to increase productivity stem from both engineers and production workers.
- Production workers are often able to come up with improvements and solutions because they are working hands on at the factory. We involve the workers in the task of finding solutions, Søren Schøllhammer says.
PH Artichoke, designed by Poul Henningsen in 1958, remains among the most popular designs. But at Louis Poulsen they have accelerated their efforts in product development yielding several new lamps in the product catalog. Among these is the lamp "Patera", which has been a great success so far. It is made of long PVC strips and merged into a round lamp. Patera is designed by the Øivind Slaatto.
This article was brought to you in collaboration with Jern- og Maskinindustrien.
Read our new magazine about world-class Danish design:
Dansk Verdensklasse