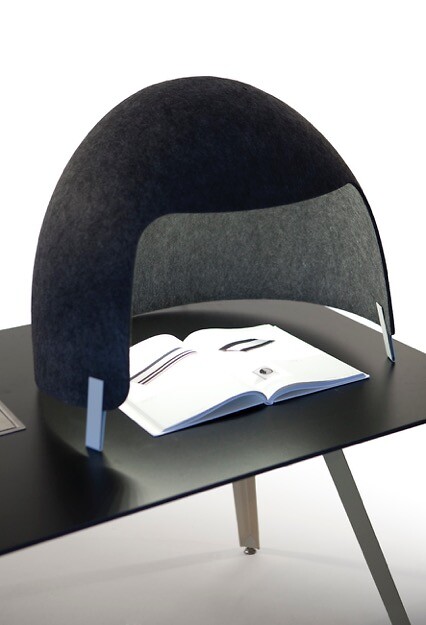 As working environments are changing, solutions to adapt, remain productive or maybe simply survive are required. The Finnish firm MottoWasabi, by Yuki Abe and Anna Salonen, has designed a charming solution to the problems of outside distractions and disturbances.
Tomoko is a sheltering, acoustic piece of office furniture for privacy and concentration in open-plan offices, lobbies, recovery rooms and other open spaces and at home. The design was inspired by a number of film and TV shows including Mia Wallace's haircut from "Pulp Fiction," Darth Vader's mask in "Star Wars," Lord Dark's helmet in "Space Balls," and the Cone of Silence from the 1960s series "Get Smart".
Tomoko helps create a small and personal space by eliminating noise and visual distractions that may disturb concentration. Besides, the signal to others is quite clear that of "Please, no not disturb." The hood is made of 100% recycled polyester felt and is produced by Vivero.
The humorous reference to the film and TV shows is obvious. Not the least to the Pulp Fiction hair cut. As a cheeky endnote, one cannot help but wonder, what MottoWasabi could design by inspiration from other real / surreal but still iconic hairstyles like the ones of Presley, Warhol or Drumpf.