3
Pictures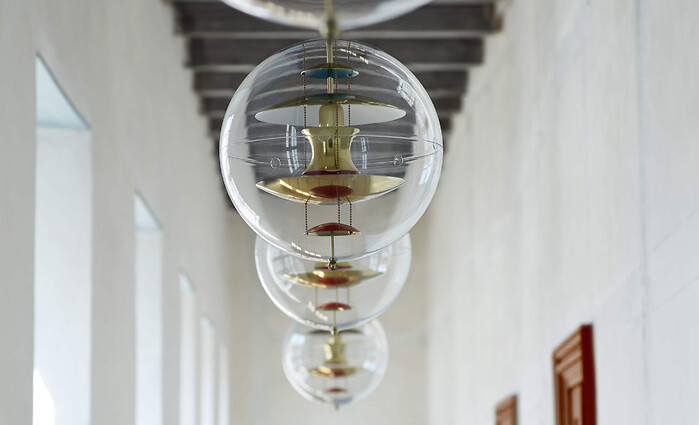 Photo: Verpan

VP Globe is one of Panton's most iconic pendant lamps. To honour the designer, his idiom and his international life, Verpan now launch a new version with a brass finish.
After discussions with the designer's widow, Marianne Panton, Verpan decided upon a brass finish as an alternative to aluminium. Its golden tones will interact decoratively with the pendant's red and blue spotlights.
VP Globe consists of five reflectors, spray painted in red and blue, suspended decoratively on delicate brass finished chains. The pendant looks like a functional lighting item, which, when switched off, resembles an oversized soap bubble. Switched on, it calls to mind a hovering UFO.
With the VP Globe, Panton's ambition was to design a lamp that could catch the eye and unite a room, regardless of whether it hung alone or in clusters. This makes the pendant an ideal choice for over a dining room table, or in a hallway or long corridor.
Panton designed the VP Globe in 1970 for the German furniture fair, Visiona 2. However, despite its positive reception, it took seven years before it was put into production.
Verpan will be launching the VP Globe in Scandinavia, Europe, Asia and the United States in early September 2016.
A global Dane
"Globe" could sum up Panton's life. Even as a young man, he was a globetrotter. In a Volkswagen van the young designer journeyed down through Europe in quest of inspiration from the design of other countries, and to meet their various furniture and lamp manufacturers.
The more comprehensive Panton's network of European manufacturers and contractors became, the more projects came his way. One job followed another and, before he reached the age of 30, he was a highly respected name on the international design scene.
The more experimental, wacky and "Pantonesque" his interiors and idiom became, the further he moved away from Denmark and his Danish colleagues, but the closer became his association with foreign countries and their manufacturers. In 1961, Panton settled in Basel, where he set up his own design studio with a staff of six. This was to be Panton's workplace until his death in 1998.