Photo: Loudliving
6
Pictures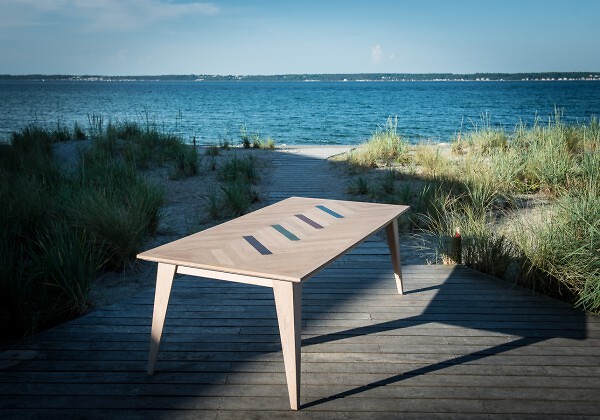 Photo: Loudliving
Photo: Loudliving
Photo: Loudliving
Photo: Loudliving
Photo: Loudliving
The Four Seasons from Loudliving - allows for the owner to create and re-create their very own expression, by changing and rearranging the coloured sticks in the center of the tabletop.
Photo: Loudliving
When the young design-company Loudliving launched the Børsen table last year, owner Rasmus Greve and his talented staff soon made waves in the Danish design industry.
Utilizing and re-purposing the old herringbone floor from the iconic Børsen building in Copenhagen, this line of limited edition tables already has more than 150 years under the belt.
- The Børsen table really is our most spectacular creation yet, and it really gave us the opportunity to make a name for ourselves and step into the design-scene, with lots of attention from the media, says Rasmus Greve.
A love of wood
But the succes of Børsen doesn't mean that Loudliving is resting on their laurels. Quite the contrary.
Rasmus Greve has wood in his veins. From his father, a cabinetmaker, to his brother, a carpenter, Rasmus Greve himself has been dealing with wood for the past 18 years.
- There's a lot of pride in what we do. Shaping and working with wood is amazing, and it's the kind of material that is ever-changing. Wood has a warmth and glow that is really special, and there's so many nuances that you could never find in man-made materials like plastic. The original thing is always the best, Rasmus Greve says.
Creating Loudliving
By now, Loudliving has launched a line of tables inspired by current trends, which also gives a nod to the herringbone-pattern from Børsen.
- This pattern gives us lots of opportunities to create different expressions, because every single stick of wood can be varied. With planks, you have a much more uniform look, but the herringbone allows us to play with different types and colours of wood, says Rasmus Greve.
For the brave, Loudliving offers dyed wood in startling colours like green or blue, but even in the raw, natural varieties the result is quite striking. And the mixing of materials is a big thing, whether it be brass or even marble, which is coming up next.
- Mind you, this marble is not the regular black and white; we're working with semi-precious stones, which is this crazy slab of marble that is constructed and polished, and reminds you a lot of actual wood. In combination with different kinds of lighting, it completely changes it's character and expression, says Rasmus Greve.
Remember your DNA
But even when moving into new materials, it's important to remember the common thread; especially as an up-and-comer.
- That way, you can really establish your brand on a solid base. People should be able to recognize your designs, so we always aim to stay true to ourselves, he explains.
The market for wooden plank tables has been booming these past few years, and the large supply of styles is starting to hurt the pocketbooks of major manufacturers. Another reason why it's so important to stand out.
- We try to come up with things that are still done by hand and can't be mass-produced. These designs need the human touch, and we aim to honour the classic craftsmanship, to get the proper finish and quality, Rasmus Greve concludes.