Photo: Verpan
2
Pictures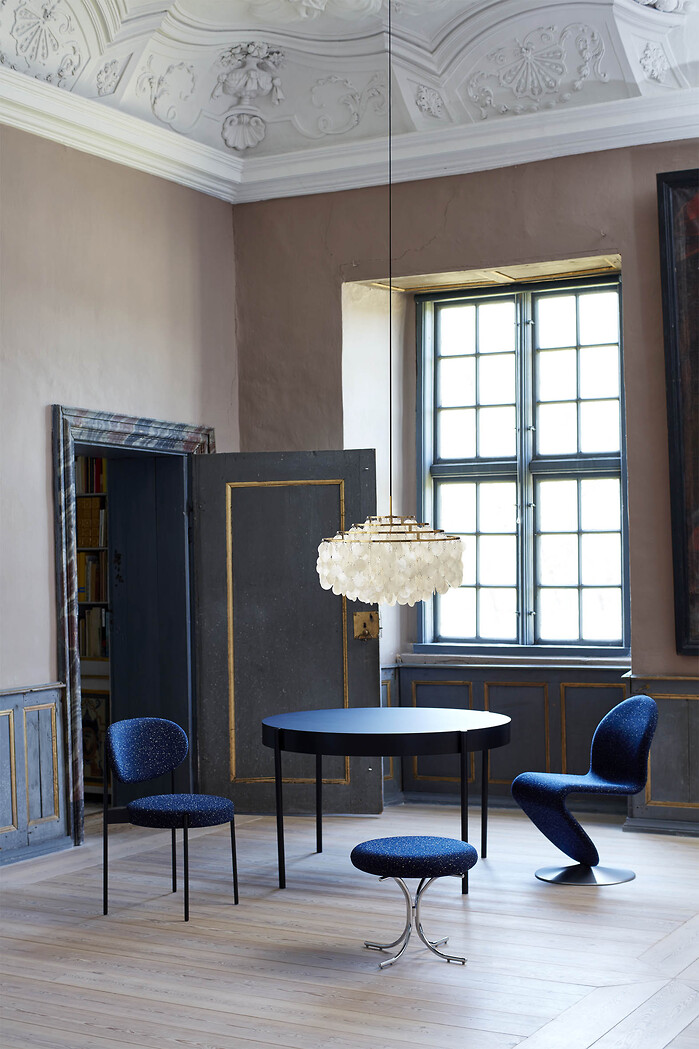 Photo: Verpan
The new Fun pendant in a brass finish
Photo: Verpan
Many people regard the Fun pendant lamp as one of Verner Panton's (1926-1998) greatest masterpieces in the field of lighting design. Ever since 1964, this pendant lamp has kindled joy and a wealth of stories. Now yet another story joins the collection on the occasion of 90th anniversary of Panton's birth.
The idea for Fun resulted from Panton's desire for a lamp with a more diffused light, and which would have an optimal effect in a coloured interior. On a delicate chrome frame, Panton suspended four layers of tightly fitted seashells, which, besides forming a sculpture in a room, also cast a light that allowed the colours to come into their own.
Warmer glow
Fun with a brass finish is intended as an alternative to the existing model, giving the pendant lamp a warmer glow, making it more suitable for lighter, more Scandinavian rooms. The contrast between the golden metal and the mother-of-pearl-coloured seashells gives Fun a delicate, interesting interplay.
By virtue of its transparent idiom, Fun is intended for hanging alone or in clusters, over a dining table, in a corner or in any room whatsoever.
Pearl-like surface
For many years, Panton worked on designing a pendant lamp, which would bring out the best in an interior. It should not be a lamp in the same old materials. He wanted to create something brand new – even in terms of its idiom.
First, he considered making it out of plastic, the "in" material at the time. But plastic did not have the look he was after. He wanted something with a vibrant appearance that would also reflect and spread light in interesting, diffuse cascades. He found what he wanted during a trip with Marianne Panton.
On a holiday in Malaysia, Panton discovered the new material at his feet: delicate seashells with a vibrant, pearly texture. When the air in the room set them in motion they produced the most exquisite, whistling music. Though Panton was excited, his excitement turned out to be even greater, when he found he could do a good deed at the same time.
The United Nations were looking for ways to generate more jobs in developing countries. Panton could help this effort by using seashells on his Fun lamp. Then as now, Fun consists of delicately processed seashells, cut to size by hand and prepared for hanging.