Foto: Royal Copenhagen
4
Pictures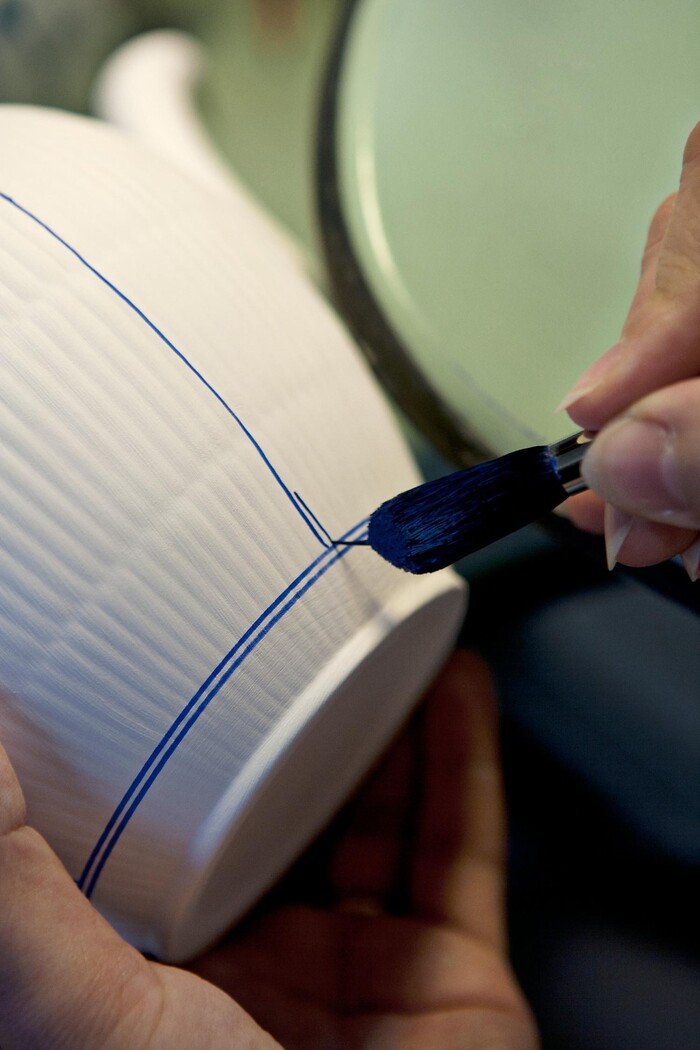 Foto: Royal Copenhagen
Foto: Royal Copenhagen
Foto: Royal Copenhagen
Blue Fluted Plain is still painted by hand
Foto: Royal Copenhagen
Blue Fluted Plain is more than just a dinner service design. Like words on paper, the handpainted blue lines tell a story.
For over 240 years, the pattern's beauty has been reconsidered and reappropriated, given new shapes, in new colours.
White gold
At the beginning of the 1700's, Meissen was Europe's sole manufacturer of porcelain. At the time, porcelain was considered to be "white gold" and in the race to discover the secrets of its manufacture, wealthy investors supported chemists and alchemists, often in dangerous endeavours.
The race was ended in Meissen in 1710, when the Elector of Saxony, Augustus II the Strong held captive a man who claimed to be able to create gold. Eventually, under duress, this 'alchemist' created porcelain for the Meissen factory.
Meissen retained its monopoly until 1774 when Frantz Heinrich Müller managed to produce porcelain in Copenhagen. Müller was a skilled mineralogist, and the laboratory where he performed his experiments was located at Amagertorv, Copenhagen, not far from Royal Copenhagen's flagship store today.
Early on in Royal Copenhagen's history, a Chinese influenced pattern was simplified and pared down to become the factory's signature Blue Fluted Plain design. Since it was the company's first design, it was called Pattern No.1. To this day, each piece of Blue Fluted Plain has a "1" painted underneath.
Origin of the name
The original Danish name for Blue Fluted Plain is "Musselmalet" or clam-painted. Some believe this is because the fluted shape is reminiscent of a clam- or seashell, but it is in fact based on a stylised crysanthemum and cinquefoil motif.
Blue Fluted Plain has evolved since its inception but has always retained certain fundamental characteristics. At the turn of the millennium, Royal Copenhagen entered a new era and the wellpreserved pattern was renewed in several ways.