Photo: Rosendahl Group
5
Pictures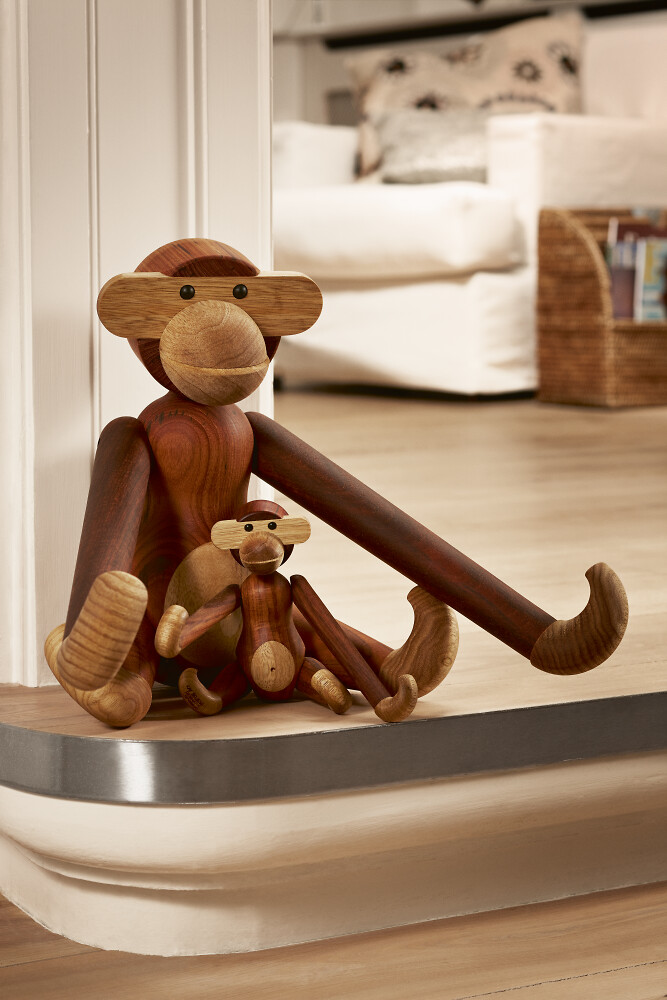 Photo: Rosendahl Group
Photo: Rosendahl Group
Photo: Rosendahl Group
Photo: Rosendahl Group
The monkey figurine is one of Kay Bojesen's most famous
Photo: Rosendahl Group
Kay Bojesen (b. August 15th 1886 – d. August 28th 1958) was a danish silversmith and designer.
He graduated as a silversmith in 1910 after completing his apprenticeship with the silversmith Georg Jensen. As one of the first in the Danish handicrafts, he was inspired by functionalism, and he was among the initiators of "Den Permanente" - a shop and a showcase, which for decades represented the best of Danish and Scandinavian design.
1919 marked the beginning of a new era for Kay Bojesen. He was married and had a son, Otto. It boosted Kay Bojesen's fascination with children, toys and wood and brought back memories of his own childhood, where his father carved wooden figures for him and encouraged his children to value ingenuity, imagination and high spirits.
In the 1930s, Kay Bojesen began to seriously pursue his interest in working with wood. He created a series of wooden animals that all lived up to his belief that a design must be round, soft, and feel good in the hand. With more than 2000 pieces of handicrafts in his portfolio, Kay Bojesen has been one of the 1900s most productive Danish craftsmen.
He is best known for his playful cheerful monkeys, royal guards and other wooden animals, but his great production also includes jewelry, cutlery, tea pots and silver cups.
He did not want to create replicas of real animals nor be too sophisticated or rich in detail, but rather to create imaginative variations of a design that was based on the child's own world where "lines should smile." Wooden toys should be simple, solid and inspiring play.
With these basic ideas as a starting point Kay Bojesen created his beloved wooden figures that appeal to the child in all of us. Today, Kay Bojesen is one of Denmark's big design names and his craft is among the most sought after in Danish design.
Kay Bojesen retained his childlike curiosity and joy of life right to the end. Kay Bojsen died at the age of 72 and leaves behind an important design heritage. A legacy that today is protected by his four grandchildren.