Photo: Please Wait to be Seated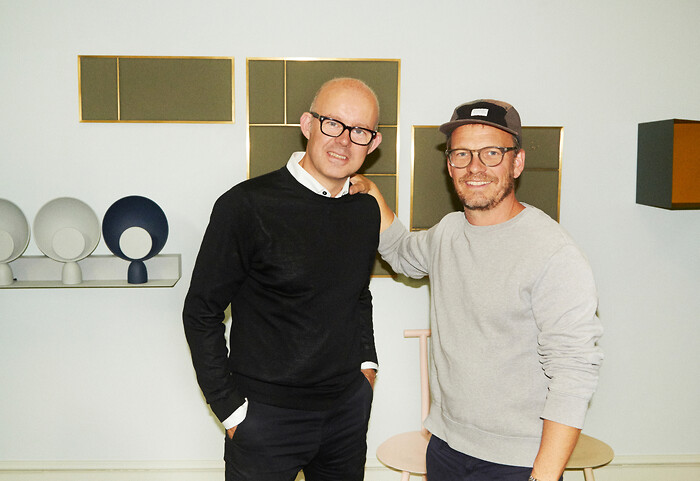 Peter Mahler Sørensen (left) and Thomas Ibsen
Photo: Please Wait to be Seated
Three years ago, former photographer Thomas Ibsen started his firm Please Wait to be Seated with the ambition of a working life filled with great design.
The initiative started as an agency representing furniture design from the German architect Egon Eiermann, but over recent years there are more self-produced furniture and lighting products.
These are developed in close cooperation with young Danish and international designers (such as British Faye Toogood and Dutch Os & Oos).
- The range is carefully curated and clearly has its own unique expression. We want to create classics in high quality that can be passed on through generations. Nothing less. We have experienced a lot of interest in the company's new designs, partly thanks to international lifestyle magazines. This has resulted in several nominations for Danish and international design awards and has driven up de demand. This amazing momentum allows us to scale our business concept and press the accelerator, says founder Thomas Ibsen.
Thus, Please Wait to be Seated has just been turned into a stock company, thereby adding further capital and expanding the ownership structure with a new CEO.
In September 2016, Peter Mahler Sørensen was appointed new CEO and co-owner. Peter is a former CEO and co-owner of Engelbrechts Furniture A/S - and has more than a decade's worth of experience with management consulting, branding and communications for Brandhouse A/S.
- When entering a new partnetship, you have to have chemistry and a shared vision, to create a common ground on which to develop. You have to share the same ambition of where you want the business to go, says Peter Mahler Sørensen.
Thomas and Peter met in connection with a photoshoot for a larger advertising campaign for a large design company back in 2006. Their mutual interest of good design has now brought them together as partners in Please Wait to be Seated. Thomas will continue to focus on further developing the company's design collection and brand.
- We have great ambitions and believe that we are eligible for a wide range of European and overseas markets. A challenge that we are going to approach in a very structured way. There is a lot of potential just waiting to be redeemed, and we are hoping that the steps we are taking now will turn Please Wait to be Seated into a much more international business, the new CEO concludes.