Photo: Skagerak
7
Pictures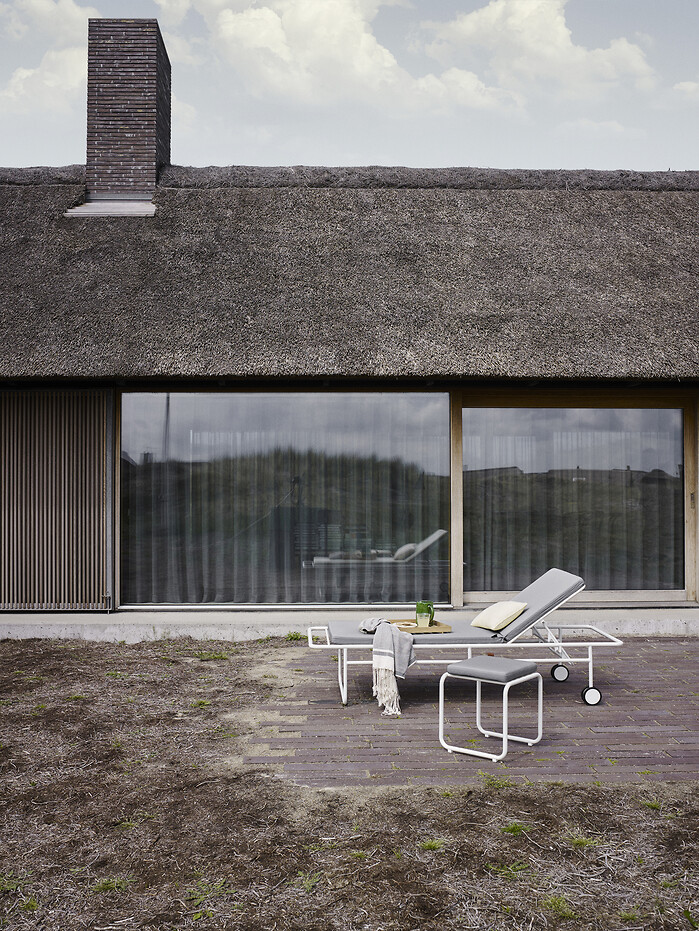 Photo: Skagerak
Photo: Skagerak
Photo: Skagerak
Photo: Skagerak
Photo: Skagerak
Photo: Skagerak
The Fuori series
Photo: Skagerak
Fuori, Aito, Between Lines, Mira and Overlap.
Skagerak's newest additions to their outdoor collection may not sound overwhelmingly Nordic by name – but they sure are when it comes to design. Made out of some of the most sturdy and weather resistant materials, and with a balanced focus on functionality and appeal, the new designs ad here to our need for a flexible, comfortable and embracing outdoor space.
Brings you down to earth
Between Lines is a deck chair celebrating the straightforwardness and clear cut of the wooden stick. The chair's low seating height brings you down to earth in a perspective where everything seems a bit more peaceful and calm. The design is inspired by the classic Adirondack deck chair, and balances between an American sturdiness and a tight, Scandinavian expression.
Between lines is designed by the up-coming Danish designer Stine Weigelt, whose approach to design is build up around two actions – inventing and testing.
The series also includes a stool that functions as an extension to the chair, and a charcoaled cushion made from Skagerak's own Barriere Panama textile, which is dirt and water repellent and has a high UV resistance.
Comfort on the move
The new Aito Chair designed by Finnish Elisa Honkanen lives a flexible and versatile life with an expression that appeals to both indoor and outdoor spaces. The simple, wooden-structured chair and its light padded seat is foldable, so you can bring it with you to the seaside, rooftop or summer cabin in the forest.
Elisa has an eye for minimalism and likes to push her designs to the limit. On the other hand, her Nordic roots ensures a humanistic touch. However, thanks to her Nordic roots, she keeps a humanistic approach to the act of creating design.
Italian luxury and Nordic industrialism
The Fuori series mixes the luxurious with the institutional in an audacious and harmonized design – added a subtle hint of industrialism. Fuori means "outside" in Italian, and that's exactly where this new series from Skagerak belongs. It is designed by Danish-Italian Monique Consentino and consists of a sunbed, serving trolley, stool, cushion and tray.
The powder coated aluminium makes the sunbed light and architectonic in its structure, carried out by curved profiles and clean lines. Furthermore, it is relocatable with its two wheels, and the backrest is adjustable in four heights.
The trolley's teak shelves are spacious and draw a beautiful contrast to the rounded aluminium frame. Over time, the teak patinates with a silver-grey glow that gives the trolley a new visual expression. When combined with the teak tray, the stool becomes an elegant side table, and together with the cushion, the stool is a perfectly hand-held and movable piece of comfort.
What a mesh
The Mira Series designed by Mia Lagerman is made purely from powder coated steel and includes a chair, an armchair, a square table and a larger rectangular table. Both chairs are stackable. The back and seat are made by an expanded metal mesh which has a light expression but strong and durable surface.
The tables are just as light and delicate in their expressions. The tabletop is characterized by the same fine metal mesh and allows a glimpse of the steel frame through its surface. Mira chairs and tables come in two different colours, and are easy on the eye, easy to fit in and – simply – easy to fall in love with.
Inspired by a pair of scissors
Overlap round-table has its name from its three folded legs that overlap in the construction underneath the tabletop made from compact laminate. The idea behind the design comes from how the two legs of a scissor are formed. The edge of the table is aligned with the width of the legs, giving a somewhat streamlined expression. Overlap round-table is easy to combine with any chair or stool, and the minimalistic appearance makes its suitable for both indoor and outdoor use.
The round-table is designed by the Swedish design studio TAF Architects as an addition to their Overlap series which already includes a bench and long table made from solid Western Red Cedar planks and powder coated steel legs similar the ones on the round-table.