Photo: Fredericia
2
Pictures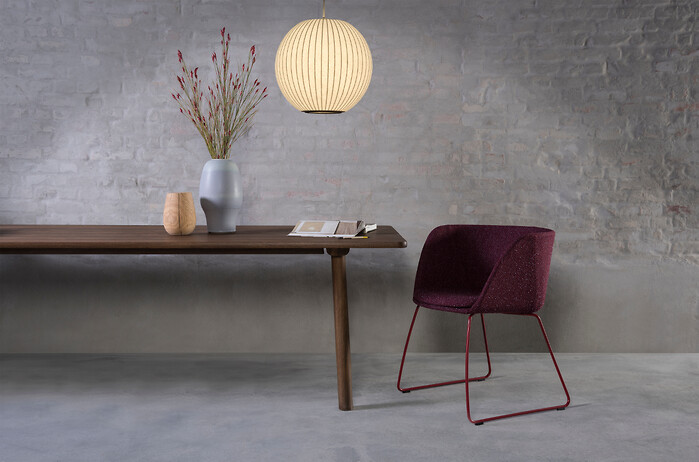 Photo: Fredericia
Photo: Fredericia
Fredericia presents the new chair series Verve - a versatile cup-chair with an innovative and compact visual expression. The design team Geckeler Michels from Berlin is behind the design of the chair, which is the first cup-chair in Fredericia collection and thus opens up a whole new category.

Also read: Fredericia opens new rooftop showroom
Verve's form is based on three basic geometric shapes: Circle, triangle and square. The circular shell is composed of triangles, which gradually passes into a rectangular seat, creating a both surprising and familiar shape with remarkably sculpted properties. The chair changes character depending on which angle it is viewed from.
Verve's composite form gives the chair a unique organic look that exudes a sense of spaciousness with added comfort and warmth.
Verve is available with a large cushion or in a fully upholstered version, which makes the chair comfortable to sit in. The seat cushion is loose in the chair, so it is easy to clean.
With its variety of frame types, Verve is a very versatile chair, which can be used everywhere - from homes, to offices, for larger canteens and meeting rooms.
Sustainable, strong and silky smooth
Verve's plastic shell is made of 100% recyclable polypropylene, which appears with a dense and fine structure that ensures a silky soft but tough surface. Verve is produced in Denmark.
- The clear geometric shapes in Verve is reminiscent of Nanna Ditzel's formal design language in her works for Fredericia in the 1990's and are traceable to the geometric aspects of Børge Mogensen's rational design approach. Verve embraces the Fredericia DNA, while adding something new to the collection, says the designers at Geckeler Michels.