Libratone has announced two new colours in its Zipp wireless speaker range - pastel blue and nude. Echoing fashion and interior trends of 2017, the light and fresh colour palette enables the consumers to easily incorporate iconic Danish design into their homes.
From the kitchen to the garden, the Zipp will immediately add a splash of colour, perfectly reflecting the bright and sunny season ahead. Not just about style however, the new portable, multiroom Zipp speakers also offer an advanced array of features including both Wi-Fi and Bluetooth connection options, enabling music to be set free throughout space.
Product management director at Libratone, Uffe Kjems Hansen, explains:
- After reviewing interior and lifestyle trends and a whole spectrum of colours, we decided on the pastel blue and nude, as they best represent the new season and the Libratone brand. The new Zipp colours cater to our customers who love the signature design and functionality of our speakers, while also incorporating trend led shades.
Flexible listening around the house
Perfect for those who love playing music throughout the home, the Libratone Zipp mixes simplicity and style with superior 360 degree FullRoom sound. The 5 on-board Favourites allows for storing of Spotify playlists or internet radio stations directly on the Zipp itself. The dedicated Libratone app allows users to connect up to six speakers in a multi-room sound system anytime, anywhere.
A total selection of a further 10 colourful variations are available, with 15 accessory sleeves to choose from, always keeping Zipp speakers on trend and customisable. Other speakers in the range include the new Zipp Nordic Black which launched in January this year. For more of a luxury feel, the Copenhagen Edition pais an ultra high quality aluminium top and base with a pure wool speaker sleeve and is available in six select colours.
Photo: Libratone
2
Pictures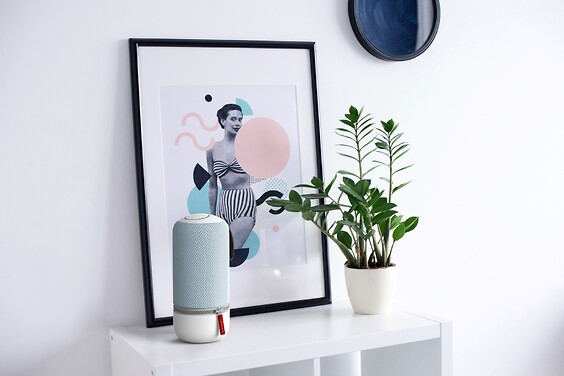 Photo: Libratone
Libratone Zipp Pastel Blue
Photo: Libratone