The fine print of rusty autumn leaves combined with clear-cut triangles form an exciting pattern on the surface of Bent Hansen's new cushion collection, Cor.

Also read: Bent Hansen celebrates 70-year anniversary
The cushion collection is covered with a unique piece of wool blend fabric called Corrosion. Corrosion has been created in collaboration between the textile manufacturer Camira Fabrics and the Norwegian print and textile designer, Torunn Myklebust, who has previously worked with luxury fashion houses such as Givenchy, Alexander McQueen and Roberto Cavalli.
With this fabric Myklebust and Camira Fabrics tell a story about how natural textures change colour over time and reveal a new found beauty.
Cor is a musthave this autumn, because the cushions remind us of the beauty of natural decay. Cor is not just a cushion, but a declaration of love for the autumn leaves.
The cushion collection consists of four different cushions measuring 43 cm x 60 cm.
Photo: Bent Hansen
4
Pictures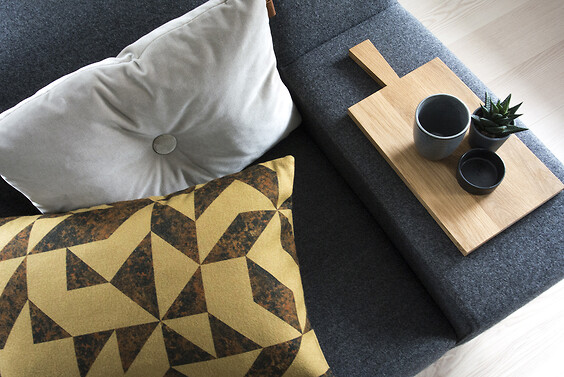 Photo: Bent Hansen
Photo: Bent Hansen
Photo: Bent Hansen
Photo: Bent Hansen