Photo: Carl Hansen & Søn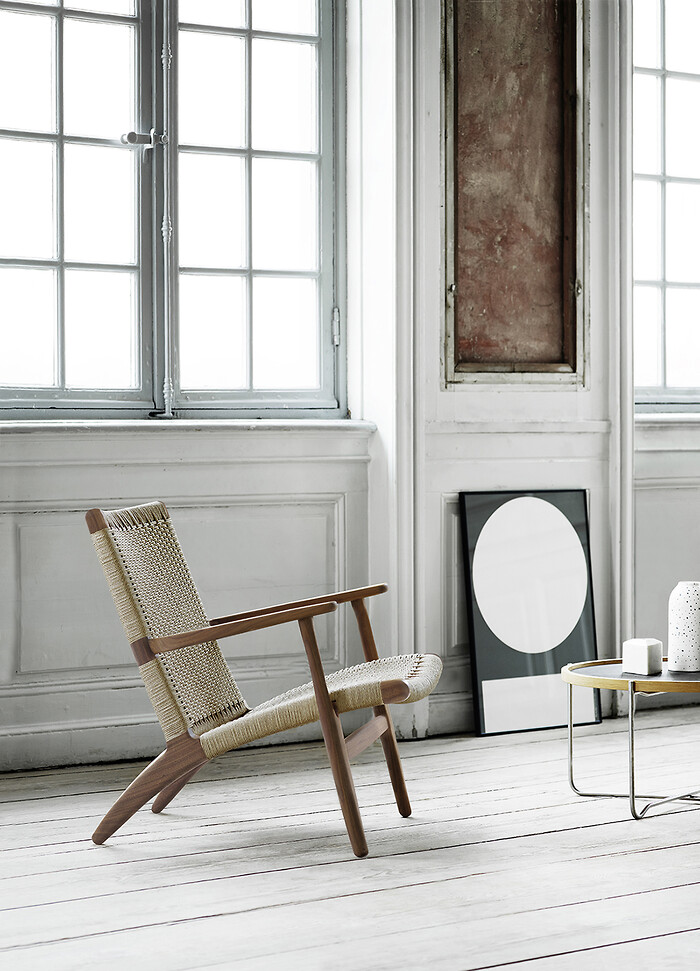 Photo: Carl Hansen & Søn
Hans J. Wegner's CH25 lounge chair, which, to date, has only been produced in natural and smoked oak, is now also available in walnut, adding new aesthetic dimensions to the design.
One of the first four iconic masterpieces Wegner created exclusively for Carl Hansen & Son in 1950, the CH25 is characterised by laid-back, welcoming elegance and considered detailing, showcasing the young Wegner's considerable talents as both designer and cabinetmaker.
- Carl Hansen & Son's introduction of the CH25 in oil-treated American walnut reflects the emerging interest in furniture made from this particular wood type. Walnut's inherent warmth provides an ideal contrast to modern architecture, just as it complements more traditional settings. This type of wood also adds a new dimension to the elegant chair, which is characterised by refined design and precise craftsmanship, says Carl Hansen & Son CEO Knud Erik Hansen.
Distinctive Wegner touch
Like the legendary Wishbone Chair, which Wegner also designed at the beginning of his career, the ambitious, sculptural CH25 bears the designer's distinctive touch.
One of Wegner's recognisable hallmarks is the advanced and technically demanding weaving that is central to the CH25, whose seat and back feature double-woven paper cord. The chair is hand-woven from 400 meters of paper cord – a task that takes an experienced weaver 10 hours to execute.
- The double-woven seat also posed a challenge to craftsmen back in 1950, as it requires a special technique as well as considerable skill. The CH25 was developed in collaboration with one of the workshop's best weavers, deeply inspiring the young Wegner, who used woven paper cord in all four of his first iconic chairs, explains Knud Erik Hansen, emphasising that in addition to having a keen eye for aesthetics, Wegner also possessed considerable knowledge of furniture-making and ergonomics.
A clear pioneer in his field, Wegner was known for an experimental and inquisitive approach to both craftsmanship techniques and materials – an interest evidenced in his frequent use of paper cord. Wegner originally chose woven paper cord as a substitute material after the Second World War, when materials were in short supply. However, he soon took a strong liking to this unpretentious material due to its strength and design qualities.
Laid-back elegance
The design of the CH25 bears similarities to the informal deckchairs of the era. The backward-slanting front legs and armrests, the double-curved seat, with the curve continuing down through the rear legs, as well as the angled backrest, are all ingenious elements in their own right that come together in a dynamic result. The CH25 radiates elegance and a perpetual modernity that endures almost 70 years after its conception.
- The CH25 is as modern and timeless today as it was back then thanks to its bold, clean lines and the fact that it is solidly built, comfortable, and beautiful to behold. Its obvious potential as a classic makes it an eternally relevant design, says Knud Erik Hansen.
The CH25 is available in oak or smoked oak in various finishes, or in walnut with an oiled or lacquered finish. The seat is available in natural or black paper cord. The CH25 will be available from fall 2017.