Photo: Kähler
6
Pictures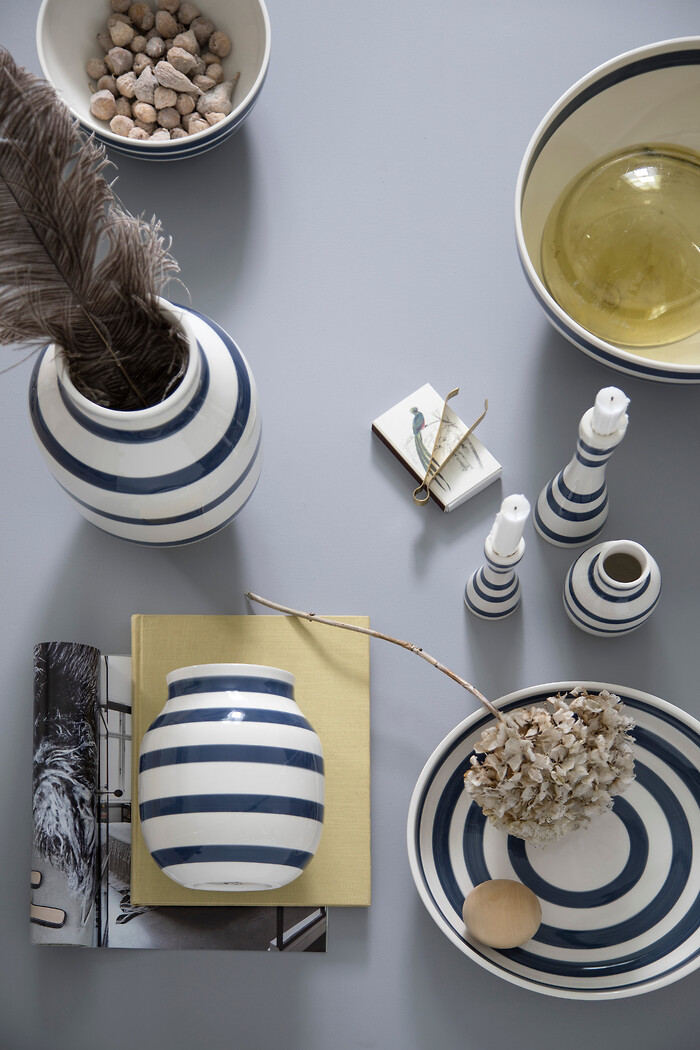 Photo: Kähler
Photo: Kähler
Photo: Kähler
Photo: Kähler
Photo: Kähler
Photo: Kähler
In autumn 2017 Kähler is introducing a brand new steel blue stripe in the popular Omaggio range, which in the space of just a single decade has made a mark on design history both in Denmark and abroad.
As always, every single stripe on every single design is hand-painted with meticulous precision, and the combination of great craftsmanship and the new, modern shade of blue gives the familiar designs a very special place in the collection.
The new Omaggio products include four different vases, three different candlesticks, two different bowls and a large round dish – all in ceramic.
In just a few years, Kähler's Omaggio range, created by the Stilleben duo, Jelena Schou Nordentoft and Ditte Reckweg, has become an established part of modern Danish design history. The new steel blue stripes elevate the familiar ceramic design into a softer, more contemporary universe.
Hand-painted elegance
The new steel blue colour is a natural extension of the Omaggio range's dynamic colour universe, of which both strong and neutral shades have become part over the years.
The new colour draws its inspiration from the contemporary focus on the elegant, exclusive shades of blue featured in many elements of interior design. Its dusty quality softens up the design's overall look, without compromising the range's special character.
What makes a classic?
The special appeal of the Omaggio range lies in the discreet balance that emerges in the encounter between the range's organic idiom and the graphic, horizontal lines.
On every single vase, candlestick and bowl the handpainted stripes have been placed discreetly to highlight the soft, curved silhouette. Thus the curved shapes make their own discreet impact, while the stripes ensure that the overall expression complements any modern interior.