Photo: Hans K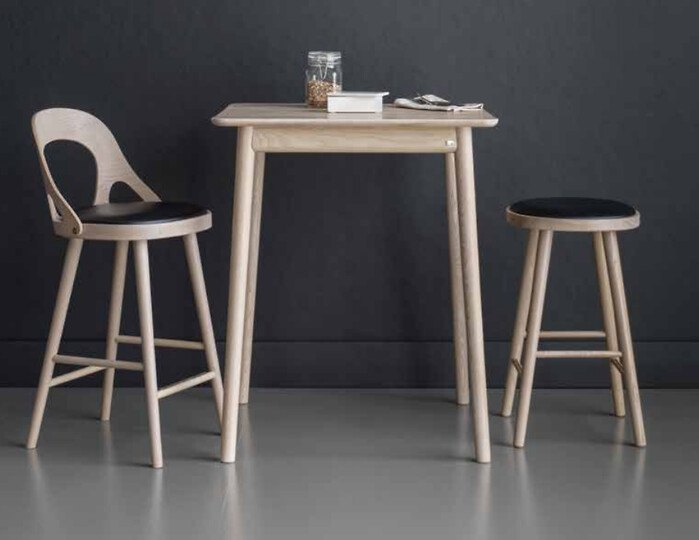 Photo: Hans K
Do you have a kitchen island? Then the new bar stools from Hans K might be just the thing for you. Colibri is designed by Markus Johansson and is a furniture collection, consisting of chairs and tables in solid wood.
Oak is both flexible and sturdy; wood for both eye and hand. In Markus Johansson's collection for Hans K, both qualities are combined in a sophisticated modern classic, which simultaneously dares the untouched contemporary. But Colibri is more than a straightforward chair, it offers a generous sitting comfort that breathes thoughtful attention in every detail.
Wood is a light, strong and renewable material. Growing forests bind carbon dioxide and by using wood as a material, we get a delay in emissions. If we properly manage forest resources on earth, we have in theory an infinite source for building homes and buildings.
This approach to wood is also prominent in the CSR-work and sustainable development at Hans K. Corporate Social Responsibility means that a company takes voluntary social responsibility beyond what is required by law. CSR can be divided into three different areas where social responsibility, environmental responsibility and financial responsibility are included.
The lightweight chairs with their rounded shapes require an equally stylish table. The table top is practical and robustly crafted in linoleum from Forbo. This natural surface has an earthy and solid quality feel. The surface also actively counteracts the build-up of static charges while preventing dust and dirt from getting caught.
Colibri can be tailored. Select the backrest with or without armrest. Base and back are available in different designs like oak, blonde and black or birch white. The chair seats are available in the fabrics; plum, light gray and gray-colored, and embossed black bonded leather.