Photo: Mosaikhjørnet
5
Pictures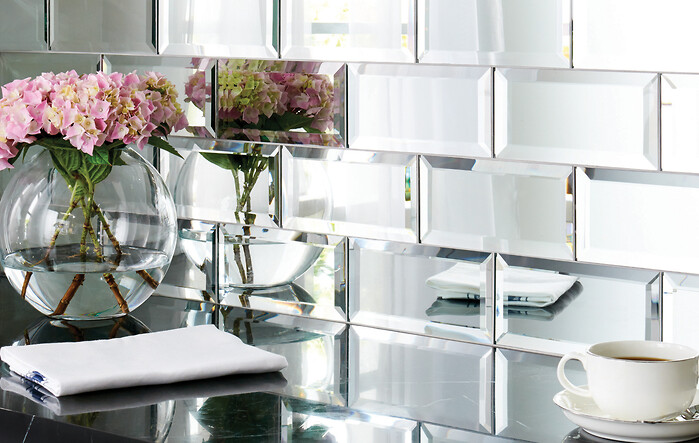 Photo: Mosaikhjørnet
Photo: Mosaikhjørnet
Photo: Mosaikhjørnet
Photo: Mosaikhjørnet
Photo: Mosaikhjørnet
The current demand for colors, texture and details quickly spreads to the most intimate space of the house, and the brave have already embraced this trend.
These days, we renovate the bathroom to get a room filled with atmosphere and a unique expression and above all: A sense of pampering and well-being in our own home.
Useful reflections
The well-known rectangular metro tile with faceted edges has long been a refined hit in the kitchen and in the bathroom. It guarantees instant parisian feel - especially if combined with brass fixtures and dark wood.
The new version of the tile is in mirrored glass, and it increases your ability to play with effects and dimension. The mirrored effect is especially welcomed in the bathroom, which is often fewer square meters than we could want. A wall with tiles will brighten up the room and create the illusion of more space.
Add extra personality
The stylish mirrored tiles are also available with special effects - in golden and gray tones as well as with beautiful patination. Especially the golden tones and patinated effects give a true boudoir mood. It is a breach of Nordic minimalism, but the bravest are in on the new possibilities:
- Our customers are increasingly asking for something different. Something that is eye catching and full of character. Many people want to use the tiles to show personality and sense of decor, says Sacha Prosberg from Mosaikhjørnet.
And there are plenty of possibilities to create your own expression - see the many variants in the gallery, both with and without the characteristic metro-shape.
Easy installation
The mirror tiles are for wall only and can not be used as floor tiles.
All types of grout can be used, but Mosaikhjørnet recommends an epoxy soap to provide a moisture proof wall covering. A narrow, dark grout will give the most discrete result and let the tile come into its own.
A surface with mirror tiles is cleaned in the same way as a regular mirror.