Photo: &Tradition
2
Pictures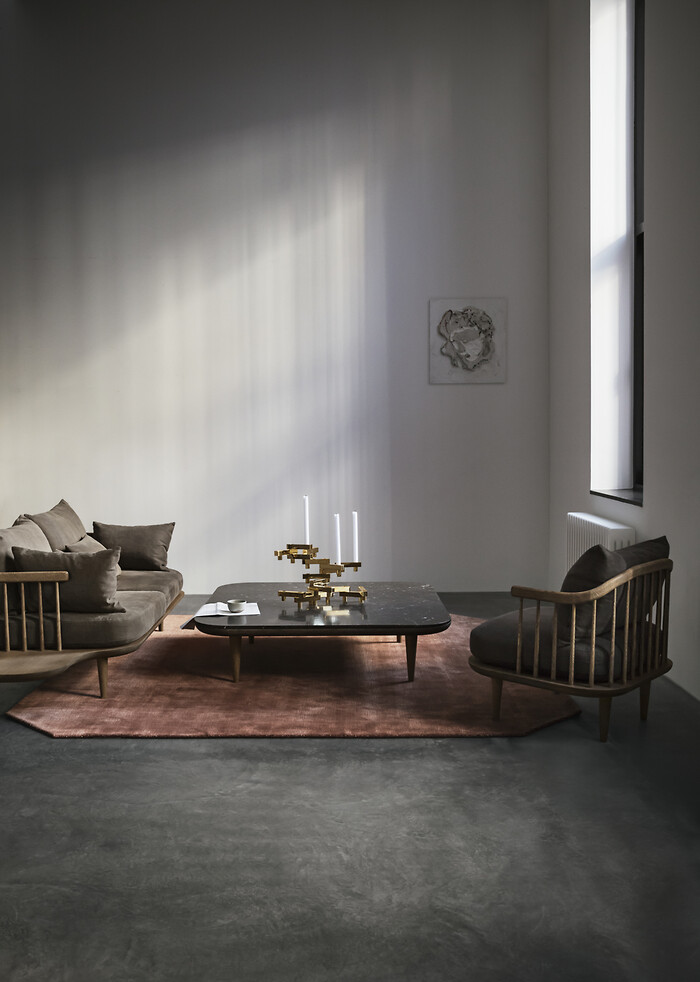 Photo: &Tradition
Photo: &Tradition
- We wanted to make a sofa which had the character of being a piece of furniture, with sculptural elements and wood, explains Signe Bindslev Henriksen and Peter Bundgaard Rützou, founders of Space Copenhagen.

Also read: Coco Chanel with a Nordic touch
- At the same time, it had to be very comfortable.
The Fly series has achieved just that – it has a sculptural feel while not sacrificing any of its comfort. The series has generous proportions and is made up of two sofas and an armchair which can be used together or separately.
It references classic Nordic styles and techniques, like the comb-back slatted backrest, organic shapes, and solid craftsmanship. At the same time, the Fly series has a cutting-edge modern lounge look, achieving a subtle balance between tradition and innovation that we champion as a brand.
One of the sofas in the series comes with side tables built to form part of the frame. Lending humorous literacy to the name Fly, they extend from each side of the sofa like wings.

Also read: &tradition launches In Between
- Space Copenhagen has a unique way of combining their awareness of tradition with an avant-garde, international outlook, says Martin Kornbek Hansen, brand director of &tradition.
- We are very proud to introduce the Fly Series, as it perfectly epitomises that unique equilibrium.
Space Copenhagen is a Danish architecture and design studio started by Signe Bindslev Henriksen and Peter Bundgaard Rützou in 2005, famed for creating interiors for restaurants such as the world-famous Noma in Copenhagen.
Working broadly within the fields of interiors, art direction, furniture and product design, Space Copenhagen has worked for an array of leading international clients. The Fly series is &tradition's first collaboration with Space Copenhagen.