Photo: Bang & Olufsen
2
Pictures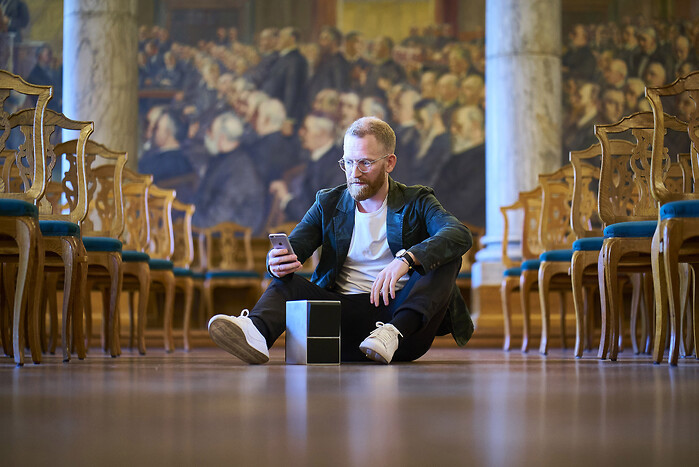 Photo: Bang & Olufsen
Chief Intrepreneur from Bang & Olufsen, Anders Buchmann
Photo: Bang & Olufsen
For almost a century, Bang & Olufsen has produced speakers and speaker systems. Now the company wants to empower people to bring their vintage and iconic products back to life by using new open source technology.
The product is called Beocreate 4 Channel Amplifier and is produced together with Hifiberry. It is essentially a piece of hardware that the customers install themselves into vintage speakers to implement wireless functionalities.
According to Chief Intrepreneur from Bang & Olufsen, Anders Buchmann it is a part of Bang & Olufsen's DNA to produce long lasting, quality products and now the company can ensure the longevity of its vintage-portfolio with new technology.
What sets the initiative apart is also that Bang & Olufsen, for the first time, enables and encourages customers to upcycle classic speakers with a DIY product.
- Bang & Olufsen is known for our design, sound and craftsmanship, virtues that never really go out of style. And our speakers from the 70's and 80's represent this just as much as our current product portfolio, Anders Buchmann says and continues:
- But with technology changing rapidly a lot of vintage speakers are stored away not being used or even thrown away. We wanted to change that, and this initiative is all about empowering our customers to bring those products back to life themselves with modern day features.
Daniel Matuschek, founder of Hifiberry says:
- Our company has always been dedicated to high quality DIY audio. Working in cooperation with Bang & Olufsen is not only a huge pleasure, it also gives us the possibility to implement our hardware to design classics we love. Seeing a company opening up for the idea of DIY audio and upcycling is more than exciting and we are very proud to be part of this process.