Photo: Holmegaard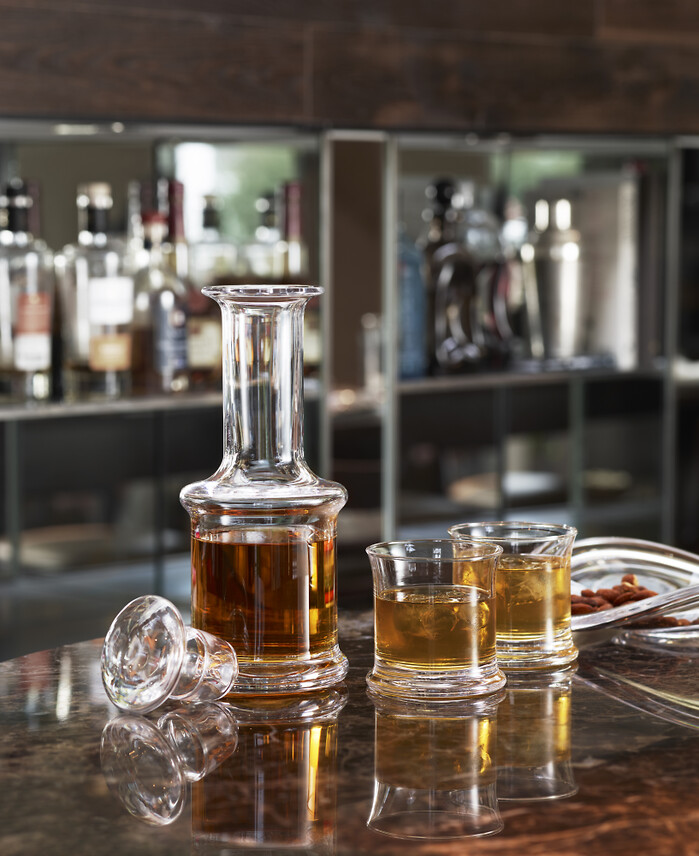 Photo: Holmegaard
In recent years, the bar trolley has made a comeback in contemporary home interiors, and with good reason. A well-stocked bar trolley exudes the unmistakable aura of Don Draper and elegant retro vibes, and the cocktail cult and resurgence of classic types of spirits such as gin and whisky have also created a need for stylish storage of bottles, glasses and gadgets.
In spring 2018, a new bar accessory is reporting for duty with Holmegaard's relaunch of the iconic No. 5 Carafe. Per Lütken designed the original carafe in 1970, and the combination of simple lines and thick, mouth-blown glass is still highly relevant today – both for the bar trolley and for everyday stylish serving of water, juice, etc.
Timeless and tight-fitting
When Per Lütken designed No. 5 in 1970, he created a glassware range that was both ahead of its time and atypical. Instead of a traditional, organic look, Lütken deliberately pursued a more cutting edge, simple design, and today – almost half a century later – this visionary design fits seamlessly into modern interiors.
This applies not least to the No. 5 carafe, now making a comeback that is 100% faithful to the original design, and with plenty of luxurious details from top to bottom.
The thick, mouth-blown glass gives the carafe gravitas and makes for an elegant effect when it is filled with liquid. The carafe's shoulder is a nod to the lip-friendly drinking rim of the No. 5 glasses, while it embraces the heavy, polished stopper, milled to glide smoothly down into the carafe for a tight seal. The tight-fitting stopper makes using the No. 5 carafe an obvious choice for serving vintage drops from the bar trolley and pouring aperitifs and after-dinner drinks with the ultimate design factor.
On weekdays and hot summer days, the No. 5 carafe is perfect for all kinds of juice and sparkling water with mint or slices of lime lying elegantly at the bottom of the iconic glass design and raising the "bar" of even soft drinks to new heights.