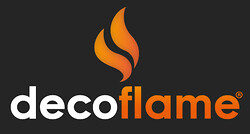 Decoflame, one of the leading manufacturers of high-end bioethanol fireplaces, was launched in 2008 by the designer Kjell Thomsen. Located in Northern Denmark, Decoflame premises include the factory where all fireplaces are carefully manufactured and tested, Scandinavia's biggest showroom with over 30 bioethanol fireplaces on display, and offices. Decoflame fireplaces combine cutting-edge technology, quality and the functionality of Scandinavian design and will add a style statement to any residence. With a well-established worldwide network, professional staff, comprehensive informative materials and technical specifications, Decoflame offers architects, interior designers as well as private customers, a perfect fireplace solution for every unique project.

CUSTOMIZED REAL FIRE SOLUTIONS
The Danish-based company prides itself in its ability to offer a wide range of customized real fire solutions for very specific interior design projects. With a clean combustion, no flue or chimney is needed for the installation, meaning that the fires can be safely positioned anywhere, both indoors and outdoors. Decoflame applies its expertise and design competences in creating both standard and made-to-measure biofires for luxury property developments, private homes, as well as for the hospitality sector. Decoflame bioethanol fireplaces are available in various layouts and finishes that can match any interior decoration project. Custom-made fireplaces, available either as drop-down burners or as built-in casings in different layouts, are designed to answer the most exquisite customer demands.

PROFESSIONALISM, INCREASED SAFETY AND QUALITY
With increased safety features and using premium quality materials, all Decoflame fireplaces are manually crafted and tested by highly skilled professionals at the local factory in Northern Denmark. Decoflame biofires are equipped with a number of safety sensors, e.g. spillage, temperature and tilt sensors, which ensure a safe operation of the fireplace. Since 2010, Decoflame has been a member of the Expert Panel in charge of formulating a new European Standard for bioethanol fireplaces, which will be introduced throughout Europe in the near future. A wide range of Decoflame fireplaces are SITAC certified, giving safety, functionality and quality the highest priority.

INFINITE FIRE
One of the most sophisticated fireplace solutions, developed exclusively by Decoflame, the 'Infinite Fire' can be manufactured from a single-module burner creating a long line of fire of any dimension. This electronically-controlled model can be divided in several burning zones that can be operated alternatively. Using the patented CE VB Technology (Controlled Ethanol Vapour Burning), all Decoflame automatic fireplaces can be integrated in a 'Smart Home System' and can be controlled by a remote control or from a smart device via Bluetooth. Moreover, the e-Ribbon™ technology has allowed relating the concept of heat reuse to bioethanol fires, connecting a fireplace to the ventilation system, which allows an even distribution of the heat output to other rooms, making biofires the perfect solution for passive houses.